The Education Partners Group (EPG) is a reflection of development partners' commitment to uphold the principles of the Paris Declaration of Aid Effectiveness and to facilitate a move towards more effective delivery and management of development assistance in the education sector in Vanuatu.
Principles
The Joint Partnership Arrangement (JPA) between the Government of Vanuatu and Development Partners sets out Partnership Principles (as captured in the Paris Declaration on Aid Effectiveness).
It is acknowledged that the Partnership Principles are not legally binding or legally enforceable. All EPG members, however, by virtue of being members of the EPG, subscribe to, and agree to work in line with these principles.
Primary Role
The primary role of the EPG is to ensure coordination of education activities among development partners with the purpose of harmonising efforts and reducing the burden placed on the Ministry of Education (MoE). This will be done through:
Identifying opportunities for collaboration between education stakeholders.
Sharing information (including current and planned education activities), knowledge, and lessons learned
Identifying and promoting examples of national and international 'best practice' in education activities
Providing a mechanism for peer review and discussion of key issues relevant to the education sector in Vanuatu.
Aligning Development Partners) contributions to the education sector with the Government's national education priorities and goals;
Providing inputs and feedback to national strategies and policies developed by the MoE in a harmonised manner;
Developing common positions to be shared with the MoE during sector-wide coordination meetings led by the MoE;
Background
The EPG was initially established in 2006 at the request of the Vanuatu Ministry of Education, as a mechanism for supporting better coordination of education stakeholders and activities.
Membership
The EPG is made up of representatives from Development Partners who are supporting the Vanuatu education sector through provision of funding or technical assistance, and representatives from the MoE (at least one MoE representative should be in attendance each EPG meeting). Membership may change.
Special participants may also attend meetings at the invitation of the EPG. Special participants may be representatives of the Government of Vanuatu and any agency, or private sector organisation or individual who is invited to attend an EPG meeting as speaker, observer or for any other specified purpose.
Meeting frequency
The EPG will meet monthly, or as needed.
EPG Chair
A Chair will be selected by EPG members for a period of 6 months. This period can be renewed for another term by agreement of the EPG, however the maximum term for the chairing role is 2 terms (12 months).
The role of the Chair includes:
Chairing meetings and providing secretariat support
Facilitating engagement and building partnership with the Ministry of Education
Coordinating the logistics of EPG meetings including venue, invitations, agenda and minutes
Circulating reports, papers, relevant documents to EPG members
Maintaining a database of EPG members and contact details
Sharing EPG meeting minutes with the MoE
Reporting back to the EPG on any key issues from other Education Committee meetings
The Chair can establish at required times, sub-working groups for specific purposes related to the roles and aims of the EPG. The sub-working groups will report on outcomes during EPG meetings.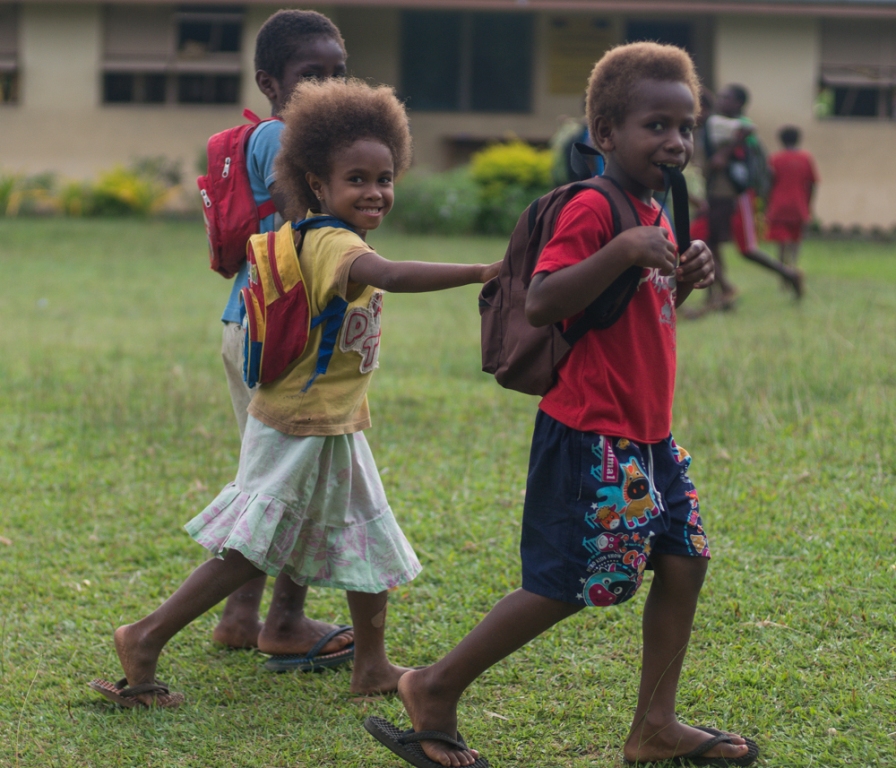 The Vanuatu Education Support Program (VESP) is a revitalised program of support to the education sector in Vanuatu over 5 years, with scope to plan over a 10 year horizon. Following concerns with the outputs of the current three-year sector support for the Vanuatu Education Road Map (VERM), Government of Vanuatu and Development Partners (AusAID, MFAT and UNICEF) have agreed to design a future phase of support which is more focused on early wins and achievable medium term targets, while still supporting the long-term key goals of VERM:
improvements in quality of education, access, and management. The focus of the program will be narrowed to target early childhood education and improvements in reading and numeracy levels of children from grades 1 to 3.
Improved teaching and learning materials, along with training of and ongoing support to teachers particularly in multi-grade settings, will be key to quality improvements. Refurbishment or building of new school infrastructure, strong local management of school grants to implement minimum quality service standards and measures to address class repetition will help to improve access to education.
Support to improve core management capacity, practice, oversight and information systems at the central, provincial and school levels will be provided. Essential future research areas will be identified with a focus on improving the knowledge-to-policy cycle. Stimulating community demand for quality educational outcomes will place increased accountability on the Government of Vanuatu to deliver results.
The program will continue to use Government of Vanuatu systems where feasible - such as for provision of school grants, where the system has been established and works well. It is likely that a mix of delivery partners working with the Government of Vanuatu will be used, including community based organisations, direct sourcing (outsourcing) to the private sector, regional universities and links to regional/local donor initiatives.
Development Partners will provide approximately A$50 million over 4 to 5 years (AusAID:A$35 million; MFAT: A$20 million; UNICEF: A$2 million). France is also considering contributing to the program. Current Development Partner funding for the VERM is around A$31 million.
VESP Tender Details (Australian Government Tender System)
VESP Design Document (Australian Department of Foreign Affairs and Trade)